Setting industry standards in irrigation
December 2016

At Bermad, we value products that perform for the long haul. We assure quality by manufacturing our products to the highest of Australian standards. We're proud to announce our adherence to the highly regarded NMI Standard.
The National Measurement Institute is Australia's peak measurement body responsible for biological, chemical, legal, physical and trade measurement. The purpose of the standard is to ensure that the pricing and distribution of goods are based on the highest levels of precision and product integrity.
In a rigorous process that takes up to five years, two of our products have been certified by the National Measurement Institute of Australia. The standard NMI 10-1 is specific to meters intended for the metering of water in full flowing pipes.
This standard is used for non-urban water, and is relevant to irrigation professionals and associated Water Authorities. Our Euromag meter is one of only four meters certified for non-urban use on the market; and the Sensus WP Dynamic Meter is the only water meter of its kind approved by the NMI for non-urban use. We're proud to assert our product's compliance with a standard that showcases their functional and technical capabilities on the field.
Certified products
Compact installation requiring three upstream diameters and zero downstream.
Available with dual pulse outputs or opto-electronic sensors.
Suitable for measurement of high or constant flow rates.
Patented symmetrical calibration adjustment.
Register may be rotated through 360°.
Powder coating affords corrosion protection.
Not affected by external magnetic fields.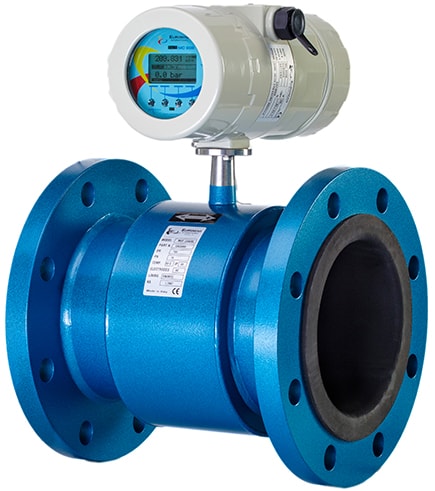 Available as battery, solar, low/high voltage power supply.
Available contact mounted or remote mounted sensor.
Inbuilt data logger standard on all models.
Ebonite liner or Teflon for fertigation applications.
Hastelloy sensors standard in the meter.
Optional pressure sensor as well as flow reading.
Suitable for all forms of communication with pulse output, analogue, Modbus or optical 3G.
Fully potted internals to protect coils against vibration or moisture damage.
Queensland Water Meter Standard for Non-urban Metering
According to the Queensland Interim Water Meter Standard for Non-urban metering, all water meters should comply with National Measurement standards as accredited products become available.
The interim standard currently states that if a suitable pattern approved meter is not available at the time of installation, then a non pattern approved meter can be installed.
As Bermad has begun the shift to products that are NMI certified, all government water meters should be replaced with the newly available product. The standard reads that when there is a sufficient supply of pattern approved meters, the intention is that current interim standard will be withdrawn, and all meters in Queensland will comply with the National Standards thereafter.
This standard applies to the specification and installation of mechanical and electronic water meters in Queensland.
View the standard here for more information.
Better. Best. Bermad.
Where applicable, Bermad products are manufactured according to the Australian AS5081 Standard, Watermark Standards, Fire & Building Certifications and Quality Marks.

Bermad is dedicated to high quality products that set industry standards. This is why we ensure our products are compliant with a range Australian accreditations and certifications.
If you're a grower or distributor in the industry, you can be confident that we go beyond the benchmark for product capability and performance.
To learn more about Bermad certifications, visit our approvals page or video which outline requirements of the Australian AS5081 standard in more detail.
Make enquiry