The new and improved BWT Interactive Training Facility
May 2016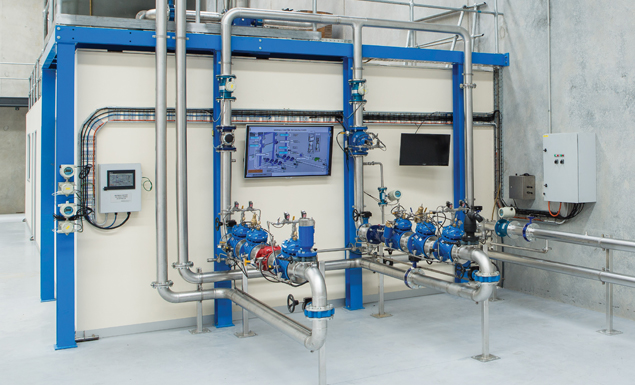 In line with our dedication to sharing knowledge to improve the water technology industry, the BWT Interactive Training Facility is Australia's first environment that is dedicated to training for: diaphragm actuated control valves, electromagnetic flow meters, mechanical water meters, air and vacuum release valves.
The facility offers the chance to engage in or watch the optimum usage of a range products, in an environment free from the risk of water hammer damage or supply outages.
Gain hands on experience and understanding by using products with water flows up to 100 m3 per hour and pressures up to 1400kPa, through a dual 100mm pumped recirculating pipeline system. The facility features a dedicated classroom and has LCD Interactive screens showing the flow and pressure for all valves and meters throughout, offering detailed insight into the functionality of each component. The training system is also connected to a PLC, enabling the precise control of flow and pressure rates.
Bigger and better than ever before, the BWT Training Facility now also incorporates an added irrigation-specific air release valve. This comes in addition to two further new rigs, and one that allows for the configuration of any valve type.
It's all part of the Bermad commitment to making things better. With over 26 years' worth of industry insight – and no plans of going anywhere – we're passionate about improving our industry by sharing knowledge to create better outcomes for water technology and valve professionals.
Training can include a range of scenarios:
Setting of one or multiple Pressure Reducing valves.
Verifying the performance criteria of Australian Standard AS5081.
Grounding comparisons versus actual performance of Electromagnetic Flow Meters.
Programming and actual verification of your specific flow ranges of Electromagnetic Flow Meters.
Extreme low flow demonstration of Utility Bulk Billing Meters.
Air flow testing of air release valves in vacuum and air discharge.
Demonstrating low-pressure sealing capabilities of air release valves.
We look forward to furthering our training curriculum and more exciting opportunities for knowledge sharing.