Understanding the Standard AS5081
January 2016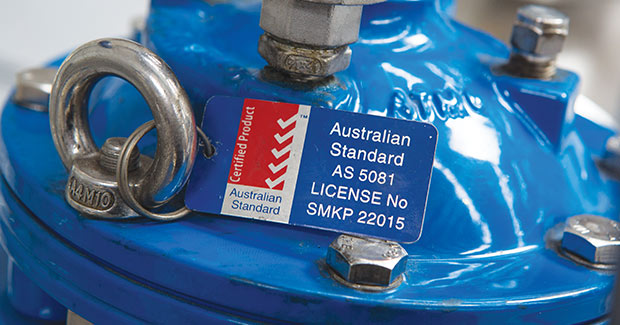 Standard compliance guarantees the optimum performance and construction of valves.
The only certified valves in Australia.
At Bermad, we're dedicated to the ongoing high performance and design of our products, which means we value standard compliance just as highly.
AS5081 is a Standard that provides specific material requirements and performance tests for metallic-bodied, hydraulically operated automatic control valves for waterworks purposes, together with default compliance requirements for use by manufacturers and certification bodies.
AS5081 specifies requirements for metallic bodied PN 16, PN 21 and PN 35 hydraulically operated, diaphragm or piston-actuated, globe or piston-style, automatic control valves for waterworks purposes and valve sizes DN 40 to DN 900 (inclusive) – suitable for, but not limited to, drinking and recycled water with a maximum operating temperature of 40°C.
The AS5081 Standard was prepared by the Joint Standards Australia/Standards New Zealand Committee WS-022, Valves for Waterworks Purposes, in response to a request from the Water Services Association of Australia (WSAA), to provide a suitable product Standard for automatic control valves.
To be certified AS5081 requires the product manufacturer to nominate performance values which the certifying authority will test against. For example, if one criteria is control at zero-flow, the valves must meet this criteria throughout a stringent testing process in order to pass certification.
Where consistency in performance and material quality is paramount, it can be measured and ensured through AS5081 certification. At Bermad, we work hard to ensure all of our relevant products are AS5081 certified where possible.
Learn more about the AS5081 Australian Standard by watching this video at Bermad's Interactive Training Facility.
Make enquiry