MC406 Battery / Low Voltage Converter
Features
High frequency sampling: Default 15s whilst still maintaining 7+ year battery life
Long battery life: Uses world's best battery for 20+ year life on 60 second sampling
Low flow consumption: When combined with the MUT2300 sensor it is capable of measuring to 0.01m/s
Highest accuracy: 0.2% +/-2mm/s (standard)
Active data logger: 3+ years of recordings at 15 minute intervals (default)
Free-issue configuration software
Dual pulse output: 1 x forward and 1 x reverse flow output
Large LCD: Showing flow rate, total flow, alarm status and battery life
NMI M10 Pattern approved in Australia for Irrigation applications
Description
The MC406 converter was officially released in 2016 with the latest technology to allow unparalleled performance in detection and capture of flow.  Battery electromagnetic (magflow) meters cannot run with continuous sampling like powered meters do. Battery magflows on the market will sample every 30 seconds to 5 minutes, meaning all flow transients between samples is missed. Increasing this sample rate from the factory default will affect the life of the battery.  The MC406 has extremely low power consumption and utilises the world's best battery to offer 15-second sampling as standard (7+ year battery life) and can be configured down to 5-second sampling (2+ year life).
It also offers extremely low flow capabilities down to 0.01m/s when coupled with the MUT2300 sensor. That's <5 litres/min with a 100mm meter!  It also has the highest accuracy of 0.2% +/-2mm/s as standard.  The MC406 converter logs all critical data every 15 minutes (default) – no set up is required. It will store 3+ years of data that can be easily and quickly extracted locally or via 3G.
Ideally suited for billing or any application where accuracy, reliability, low flow detection and capture is of high importance.
The MC406 converter is also available as a low voltage external supply powered device, and is NMI M10 pattern approved for battery and low voltage irrigation applications.
Options
Integrated 3G communications: Transmissions to SMS, Email or free to use web-host for easy access to secure historical meter data
Mounting: Local (compact) or remote (pole or wall) mounted
Temperature and pressure sensing: in-line pressure and/or temperature sensing
Downloads
View all product approvals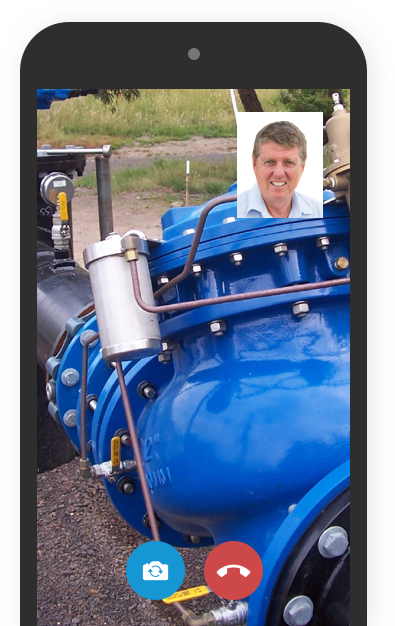 Live field support

Available Mon-Fri, 8am-6pm AEST.