Better, Best, Bermad: 30 years on
June 2019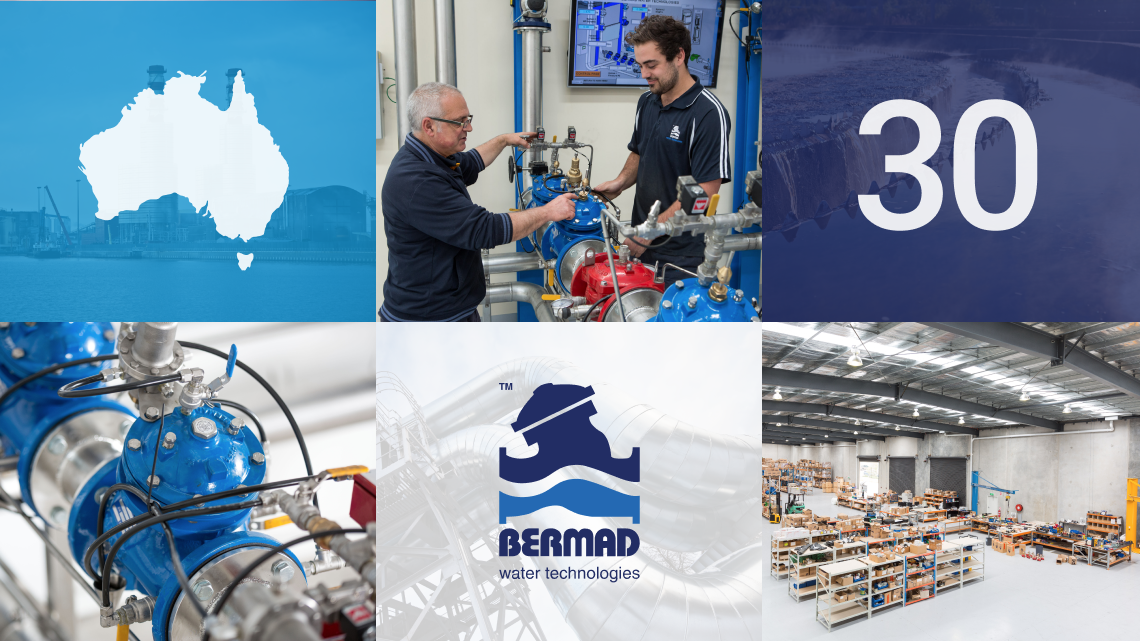 Since our operation began in 1989, we're proud to be project partners on some of Australia's largest developments in water infrastructure.
Over the last three decades, we've had the pleasure and opportunity to control, protect, and measure water for projects across the country.
We're excited to share that 2019 marks 30 years of Bermad Water Technologies. During this time, we've led the water, irrigation, mining, fire & building, and metering markets with our supply of superior products.
As leaders within the Australian water industry, our team continues to set the standard for quality products, provide on-demand technical assistance, and develop far-reaching resources on Bermad's valves and meters.
Recently, alongside making improvements to our Head Office and factory in Victoria, we've also established a strong reputation for expertise in achieving accreditations, with many of our products continuing to set new benchmarks across control valves, air release valves, and fire and building products.
Educating the industry
While there have been many changes and new ideas over the years, there's one thing that remains constant. At Bermad, we're committed to providing technical resources that help support your latest application or project. Our resources aren't limited to product brochures, they span digital technical data and CAD files, to step-by-step video demonstrations and product features.
Part of our business is ensuring your organisation has the tools they need to install, maintain, and commission Bermad products to their full potential. Keeping our Knowledge Hub, YouTube channel and online product pages up to date are just some of the ways we continue to grow this library for the benefit of our customers.
In recent history, we've also established two Interactive Training Facilities in our Victorian and Western Australian offices to provide hands-on training and support when you need it. You can get in touch with our Melbourne or Perth offices to learn more.
Long standing partnerships
We're proud to say that we've maintained our industry relationships over the course of many years. Alongside out clients, this also includes our staff. In the last 30 years, we've built a team of engineers that work to optimise systems, develop new products and align with Australian and International accreditations.
Many of our staff members are long-term employees and continue to play a critical role in the development of Bermad as a business and industry-leader.
We'd like to thank the suppliers, distributors, and clients that have worked with us over the last 30 years to make Bermad a success. Our relationships with each of you has helped us develop a network of water professionals across the country, and has enabled us to grow our business and the businesses of our clients.
If you'd like to learn more about some of our recent projects and product developments, visit our News section and Knowledge Hub, or reach out to your local sales office.
Make enquiry