Building the new Royal Adelaide Hospital
May 2016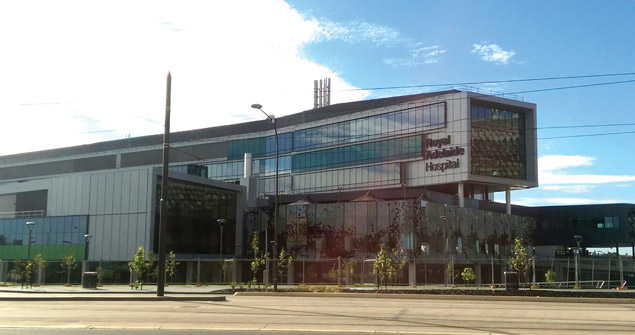 In our latest case study, David Chaplin, BWT's South Australian and Northern Territory Sales Manager, provides an outline of our role in the world-class Royal Adelaide Hospital (RAH) project.
Scheduled to open in September 2016, the new Royal Adelaide Hospital will provide state-of-the-art healthcare services and treatment facilities for South Australians.
The development has been a huge project. At its height, there were over 2,000 site staff working with more than 100,000 cubic metres of concrete. They've drilled more than 2,000 piles and used over 25,000 tonnes of reinforced materials in completing the $1.4 billion project. They're enormous numbers, and they're all going towards building an industry-leading hospital facility.
Bermad, a proud partner.
The team at Bermad Water Technologies is proud to have played an equally significant role in the project.
We partnered with SA Health to develop a comprehensive end-to-end water management solution that caters to the full range of the site's specific needs.
Building a brand new cutting edge medical centre offered an exciting challenge, and one we embraced whole heartedly. It represented a great opportunity to align with the RAH's dedication to high quality and innovation.
Our products can be found throughout the building. They assist in areas such as pressure reduction and regulation for many of the different rooms – from technical treatment suites, through to private hospital rooms and staff quarters. The hospital will use Bermad solutions to capture precise usage information, cool and heat water, and meet the strictest standards for fire safety and irrigation.
Innovative quality, improved care.
The new hospital is an incredibly versatile facility, with a range of pioneering features that have not been seen before in Australia. There are also a wide range of new services and amenities on site, including a supermarket, restaurants, cafes, a bank, and even a post office.
As a result, we needed to develop and deliver a comprehensive solution that aligned with the world-class facility, and that was fluid and flexible enough to meet all of the RAH's many needs. At a quick snapshot, the new Royal Adelaide Hospital will feature Bermad Water Technologies' Series 720 pressure reducing valves standards marked & water marked to AS5081, Euromag electromagnetic flow meters, MTKD Multi Jet water meters and Sensus WP Dynamic turbine water meters.
This wide range of products offers the RAH complete control over pressures and flow rates. The solution ensures reliability of service, and protection against scenarios where pipes or valves may be damaged or restricted. And, it provides the hospital with a number of options for precise and highly accurate bulk metering, enabling their team to acquire detailed usage information for building management and other analysis.
Unique challenges and standards compliance.
In addition to scale and scope, the project presented some unique challenges. Codes and regulations are of the upmost importance in the medical sector, with sterility and flow reliability being two particularly essential requirements.
At Bermad, we take standards seriously regardless of the project, product or application in question. BWT products meet the strictest Australian standards in relation to a variety of accreditations.
The RAH project required us to meet industry certifications and standards such as AS5081 for pressure reducing valves, AS4158 for requirements and performance for coating systems for valves and fittings used in water supply systems, the potable water standard AS4020, and the flanging standard AS4087.
A commitment to quality.
Dependability and advanced design were two key factors in SA Health's decision to use BWT products throughout the extensive redevelopment.
The hospital's project team held our water solutions in healthy regard, thanks largely to Bermad's reputation for durable long-term performance and measured product engineering.
With the design close to completion and our involvement having finished at the end of 2015, we can confidently say that Bermad are honoured to have been a part of the project. Not only is the refurbishment contributing to improved healthcare for a wide variety of Australians, it is also the chance to align Bermad Water Technologies with a world-renowned initiative that is attracting serious interest from around the globe.
As the launch date rapidly approaches, we're looking forward to monitoring the new facility's progress and hearing about the hospital's many successes.
Make enquiry