Power & Water Corporation
April 2015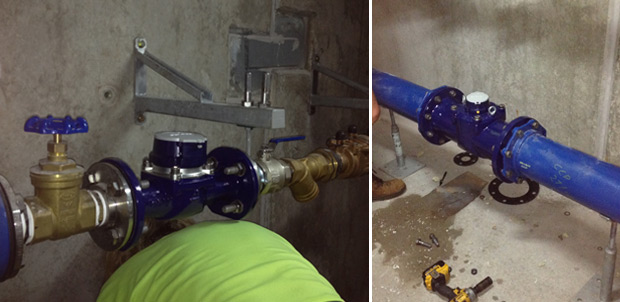 In this case study, David Chaplin, BWT's South Australian and Northern Territory Sales Manager, talks about BWT's latest supply contract for the Power & Water Corporation (P&WC) in tropical Darwin.
P&WC is the largest provider of water and sewerage services in the Northern Territory. The corporation services more than 1.3 million square kilometres, and is one of the largest employers in NT.
Three years ago, BWT began talking to P&WC about an installation problem they were facing.
P&WC's filter pump stations were receiving incorrect readings from its meters. Visiting the site first hand, we were able to identify the problem.
The pressure-reducing valve (PRV) was installed before the meter. This was creating turbulence, which was coming out of the PRV before the water went into the meter and giving an incorrect reading. By installing the meter first, and then the PRV, the turbulence was eliminated and an accurate reading produced.
We knew one of our products, the Meistream Plus Water Meter, would be perfect for this type of installation, especially because of the limited space. The beauty of the Meistream Plus
is that it does not require any 'straight lengths' before or after the meter.
We supplied P&WC with a DN80 Meistream Plus water meter and it performed exactly as it should. (Sometime later, we learnt P&WC had the meter independently tested and that the results showed it was 100 percent accurate.)
Over time, we were able to learn more about some of the issues P&WC faced. One of the biggest concerns regarded the length of their meter installations.
Land developers are always keeping an eye on maximising their returns, constantly complaining that the space needed for the meter installation could be better used as another parking space
(or similar). It was yet another reason the compact and efficient Meistream Plus meters were a great fit for these sites.
As word of the success of our meters spread, BWT started to get enquiries from field operators. More and more started using the Meistream Plus because it was easy to use and install.
P&WC decided that wherever possible it would embrace change and use the latest technology.
Our Sensus smart meters are a great complement to the Meistream Plus. They are based on electromagnetic technology and manufactured from a non-composite material that will not corrode giving them a long life. They can also be easily read from a distance using a hand-held unit.
In 2014, P&WC officially elected to implement BWT products across the territory. There were two key reasons for choosing BWT. Not only do our products meet P&WC's technical requirements,
but they are also in line with Australian standards.
We look forward to working with P&WC to ensure our products and solutions meet their demands over the coming years.
If you're keen to learn more about our work with Power & Water Corporation or any other organisations BWT has served, please drop David a line at david@bermad.com.au.
Make enquiry