Melbourne Desalination Pipeline
July 2014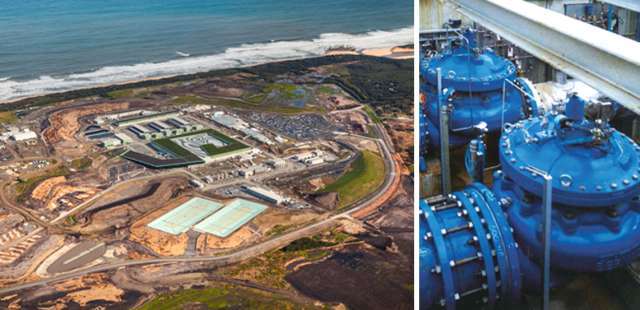 In early 2010, the Victorian Government awarded a tender for the construction of a major desalination treatment plant to supply water to the South East part of Melbourne, as well as a transfer pipeline, as Victoria was suffering from the extreme effects of many years of drought.
Drinking water was fast running out and, as part of a number of measures to save water, the Government decided to invest in making "desalinated water" to minimise climatic rainfall variability.
The successful consortium had to be able to pump water from the treatment plant, located at Wonthaggi in Gippsland, via a pipeline into the Melbourne Water reticulation network.
As the pumping stations were up to 80km away, and deliver high volumes of water at extremely high heads, Melbourne Water had stringent requirements about stable pressure supply regardless of the huge flow ranges that had to be supplied.
Tenders were called for suitable organisations to design and control the water pressure to Melbourne Water using pressure regulating valves.
The requirements of the Pressure Regulating Valve (PRV) Station were considerable. It would have to:
Regulate downstream pressure with flows from zero to 3800 l/s
Regulate within a very tight downstream pressure tolerance regardless of inlet pressure conditions
Ensure that the PRVs themselves did not suffer from hydraulic lock out when the inlet pressure dropped below the required downstream set point
Act as non-return valves
Provide a suitable design valve train that was able to be maintained on line with minimal disturbance
Provide a valve that regardless of inlet pressure and flow would react in set a specific rate of change over a time basis to avoid the possibility of surges
Regulate the pressure even in the vent of pressure surges caused by power failure at the transfer pump stations; and
Minimise noise and avoid cavitation conditions in the valves under all hydraulic conditions
The PRV Station would also have to be constructed from materials that would offer long-term viability with the very pure desalinated water.
The requirements were the most severe we had encountered in over 20 years, but this was a challenge we were up for. After hundreds of hours of work, planning and risk analysis, we were thrilled to be awarded the contract – under a very tight delivery schedule as Melbourne Water dam levels continued to drop to dangerous low levels.
The key to our success was in the detail. The valves we designed for the project all had the following features:
A double chamber to regulate at a constant rate regardless of DP and flow and ensure no chance of hydraulic lock out
Internal drop check split shaft valves to act as non-return valves; and
On demand and secondary back up piloting with safeguards to avoid over or under shooting of control mechanism
We supplied three valves in total: two DN600 and a single DN450 valve. Testing was carried out from a single 3" hydrant flow all the way to 3800 L/s with great success.
Thanks to the successful implementation of the PRV Station, we were also awarded further contracts for valves at the surge tanks, one-way tanks and a 120 units of 150mm diameter main line CSA air release valves for the pipeline.
Make enquiry