---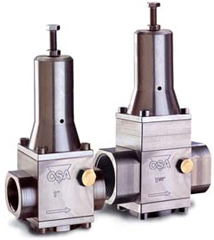 The CSA Mod. VRCD-FF, with body and internals entirely made in stainless steel machined from a solid bar, reduces and stabilizes the downstream pressure, with a pre-set and adjustable value, regardless variations in demand. Thanks to the self-cleaning pressure balanced piston technology, the valve will guarantee for a high accuracy, also in case of low flow rate conditions, drastically reducing the maintenance operations.
VRCD Data sheet
VRCD FF IOM 2015
VRCD SS GA drawings 2015
drawing VRCD FF
Product features
• Body in stainless steel.
• Cover in nickel plated aluminum or stainless steel.
• Internals in stainless steel.
• Pressure balanced self-cleaning piston technology.
---
‹ Caleffi Brass Direct Acting Pressure Reduction Valves WATERMARK approved